SpaceX's Starlink Maritime, a company formed by the US-based rocket manufacturer to specifically provide internet access at sea will provide its service on boats.
Elon Musk confirmed the upcoming service via his Twitter post where he wrote "Starlink for boats" in a brief.
Starlink says the service is for "merchant vessels to oil rigs to premium yachts." It has been reported that the service will come for $5000 a month and add to that the hardware cost $10000, and another $100 for shipping for the first time installation.
The customers will get "high-latency internet" which may not please those who are into streaming and online gaming. But a decent enough 350 Mbps download speed will come at the disposal at the expense of low-orbit satellites.
ALSO READ: SpaceX to provide satellite internet in the Philippines by 2023
Starlink Maritime promises wide coverage
The satellite internet on the seas would bring connectivity to the remotest areas so far unconnected. But despite the company saying the coverage will be available across the world, it looks untrue. So far, Starlink is still expanding its services and is yet to arrive in many Asian countries so to speak. More so, the company's coverage map shows that small parts of the sea around North America, South America, Europe, New Zealand, and Australia could be covered by that "sea connectivity."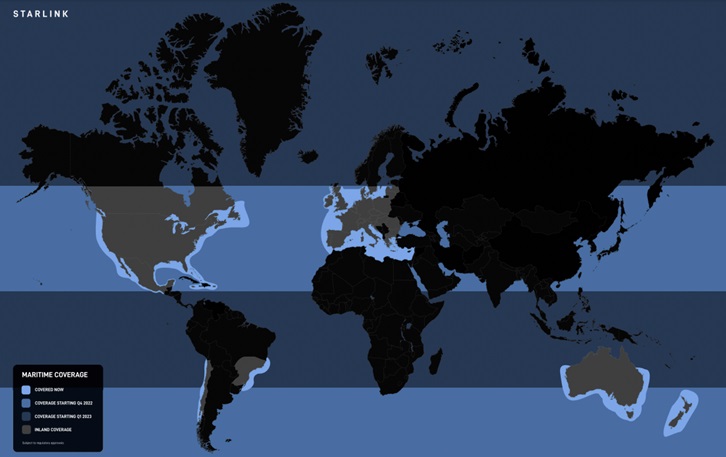 However, the company is planning on widening its availability rapidly in the coming months. It says more parts of the seas around the world will get satellite coverage in the fourth quarter of 2022, and most countries will have the availability of its services in the first quarter of 2023.
DO CHECK OUT: Amazon Launches AWS Private 5G Network for Businesses
The company says installing the hardware is also easy for the subscribers. As per the company, all that its customers need is a deck space and an unhindered view of the sky to receive the signals. You can also pass your service on to another if you are not using the service.
You can find out whether the Starlink Maritime service is available in your area here.
SpaceX says its satellite broadband can withstand "extreme cold, heat, hail, sleet, heavy rain, and gale force winds" and ensure a consistent broadband performance.